It's been 19 years since Scottsdale voters approved a major bond program to finance improvements and repairs to community infrastructure. To put that in perspective, 2000 was well before iPhones, Facebook, Twitter and Instagram found their way into our daily lives. Arizona Cardinals wide receiver Larry Fitzgerald was in high school. Cardinals quarterback Kyler Murray was three years old. America Online connected us to the internet.
2000 Bond Program
Scottsdale voters approved a $358 million bond program in 2000. That package included investments in the Mustang Library, Grayhawk Park, the McDowell Mountain Park and Aquatic Center. They also improved flood controls and drainage along McDonald Drive, Indian School Road and the North Scottsdale Road corridor. Voters also approved investments in more public art as well as transportation improvements to Hayden Road, Shea Boulevard, McDowell Road and Scottsdale Road. Those projects benefited all parts of Scottsdale. You can see the projects here: https://www.scottsdaleaz.gov/construction/bond-project-history
2019 Questions 1, 2 and 3
The bonds on the November 5th ballot invest $319 million in 58 projects across Scottsdale. The 19-year span since the last bonds has left some of Scottsdale's infrastructure crumbling, literally. Among many other projects, the new bonds will restore Civic Center Plaza so it can host events after part of it had to be closed by cause of emergency repairs that also closed Drinkwater Boulevard. Infrastructure at the southern end of Indian Bend Wash will also be fixed at Vista del Camino Park. The Granite Reef and Via Linda Senior Centers will be expanded with the former getting in demand adult day care services. New fire stations will be built. Police stations will get bulletproof glass as well as other needed renovations. Pinnacle Peak Park will get new trails and more parking for hikers. Secondary property taxes, which fund the city bonds, are expected to go down even if all three measures pass because of the retirement of the last bonds, according to the City Treasurer's Office. The project list can be found here: https://www.scottsdaleaz.gov/elections/bond-2019-project-list
The Toughest Questions Lead to Even Better Answers
The three bond questions invest in Scottsdale's quality of life and future prosperity. The 58 projects in Questions 1, 2 and 3 expand senior centers, build new parks and youth sports fields, improve police and fire stations and repair broken and crumbling infrastructure. Our campaign is open to answering voters' questions about the bonds. We also want to make sure accurate, truthful information is easily available to you about the bonds and Scottsdale. We have created this Fact Check section to address potential questions and notions about the bonds and our city.

#1 What will happen to my taxes?
Scottsdale voters have not approved a large bond program since 2000. The debt on the current bonds is being retired. That reduces secondary property taxes, which fund bonds. Even if Questions 1, 2 and 3 are approved in November the secondary property tax will likely continue to decrease, according to the City Treasurer's Office. This year's bond program totals $319 million. That is much less than the $450 million city officials said would be the bond amount where Scottsdale taxpayers would see a slight increase to their secondary property taxes. Secondary property taxes are also a small part of overall property taxes.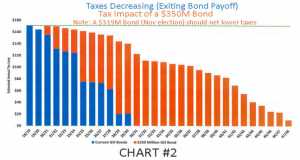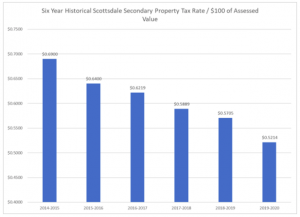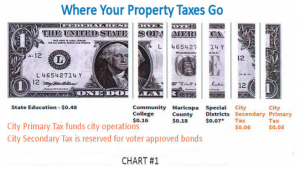 #2 Aren't the bonds being pushed by and will benefit 'special interests'?
The 58 projects in Questions 1, 2 and 3 were developed through multiple public meetings and put on this November's ballot by a unanimous Scottsdale City Council and Mayor Jim Lane.

The $319 million projects are in all parts of Scottsdale. They will benefit neighborhoods and our neighbors. Pinnacle Peak Park will get new trails. The Via Linda and Granite Reef senior centers will be expanded. Police stations will get bullet proof glass in their reception areas. The city's 911 systems will be upgraded.

The bonds build new fire stations and new youth sports fields and parks. The Scottsdale Fire Fighters Association, Police Officers of Scottsdale Association and community and neighborhoods advocates such as Paula Sturgeon, Andrea Alley, Sandy Schenkat, Copper Phillips, Dana Close, Don Henninger, Jon Ryder, Gerd Wuestermann and Sonnie Kirtley all back this year's bond questions.

#3 Scottsdale should be paying for these projects through operating revenue and not bonds.
Scottsdale voters have not approved a major bond program since 2000. Our city has immediate and overdue infrastructure repairs. The southern end of Indian Bend Wash needs lakes, irrigation systems and a dam repaired. The Civic Center Plaza needs event and community spaces improved and repairs after the emergency shutdown of the Drinkwater Bridge and Drinkwater Boulevards.

Some of the repairs and investments in the bond programs would take years for the city of Scottsdale to do via operating budgets. Some of the projects might now happen at all without the bonds. The city government has had very tight operating budgets since the last economic slowdown. The city cut its annual spending by $131 million between 2009 and 2016. The bonds offer long-term investments in expanding senior centers, building new parks, youth sports fields and fire stations.

Scottsdale has the highest credit for its bonds from the three major rating agencies. Not many communities have those top ratings. Lower interest rates for bonds along with the Scottsdale strong credit scores and our long-term needs make the bonds the best path.

#4 Scottsdale already has too much debt.
There are a lot of misnomers about how much debt the city of Scottsdale has. Scottsdale does not have as much as debt as some suggest and much of the city's current debt is for the McDowell Sonoran Preserve. Starting in 1994, the city has paid $1.4 billion to preserve 30,000 acres. Our remaining debt on that land is approximately $300 million which will be paid off in less than 10 years and the sales tax tied to it can be retired.

The city's overall debt is going down each year with the retirement of previous bond expenditures.

You can check out more detailed information about Scottsdale's finances at https://www.scottsdaleaz.gov/finance. The Arizona Department of Administration also has reports details bond debt throughout the state including at the municipal level at https://openbooks.az.gov/financial-reports/outstanding-indebtedness.
Join Our Team.
Make A Difference.